Meet the New Guys
Trevon Grimes, WR, Florida
6'5 – 231
The Panthers had a lot of luck last year with last season's second-round pick, TJ Vasher who finished the season as the team's leading receiver. So with their first pick in the 2021 draft, the Panthers selected the towering wide receiver from Florida, Trevon Grimes. Grimes will likely spell Vasher at the X position early in the season, and possibly mirroring Vasher in 3 and 4 WR sets, while DJ Moore and Curtis Samuel rotate at the slot position. Grimes draws comparisons to division-mate Mike Evans and the Panthers are hoping they can eventually give the Buccaneers a taste of their own medicine.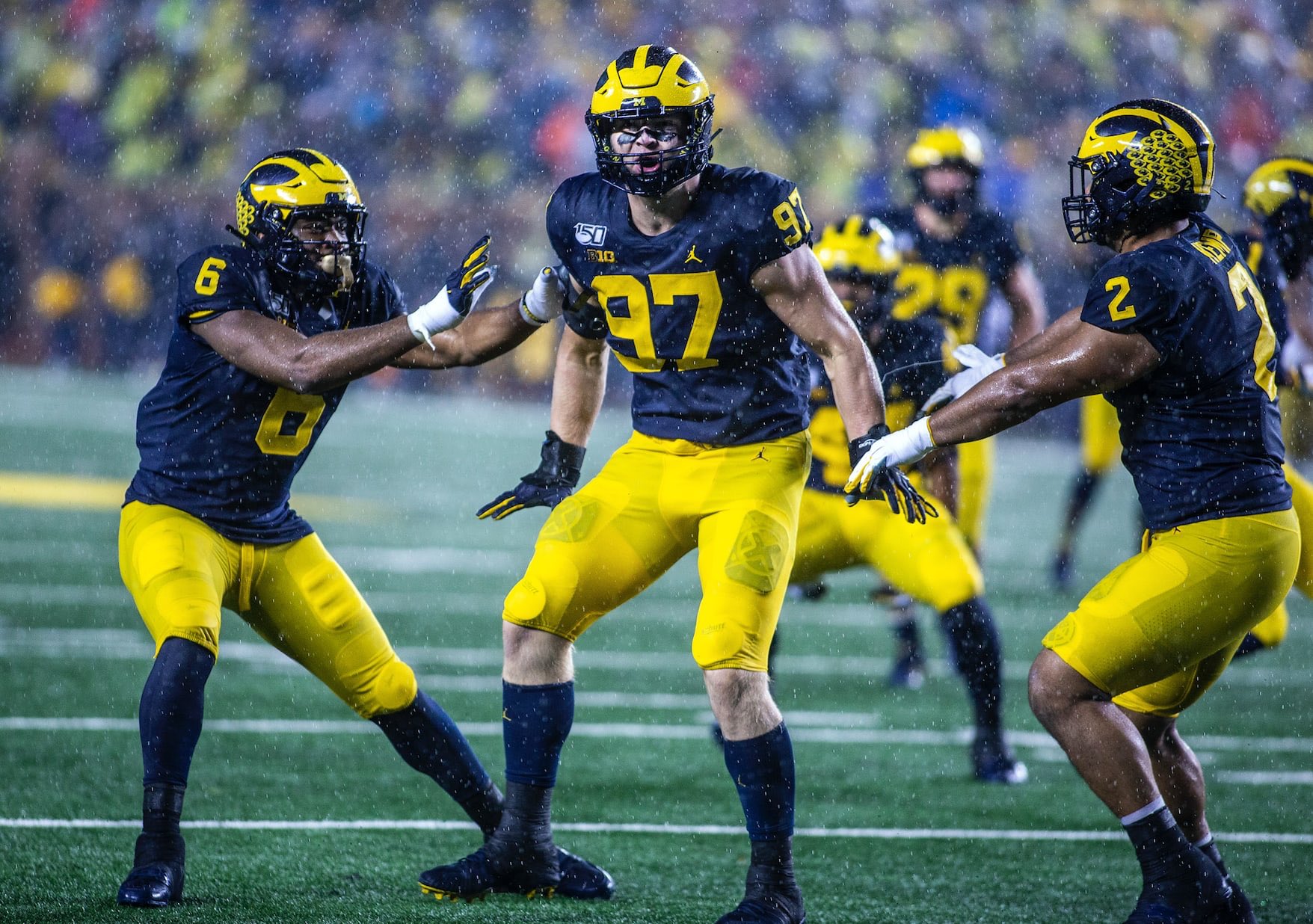 Aidan Hutchinson, DE, Michigan
6'6 – 283
Hutchinson was expected to go in the first round despite having a 2nd round grade by many scouts including the Panthers. When Hutchinson fell to the Panthers with their 17th in the 2nd round, they jumped on the opportunity to fill a need on the defensive front. Hutchinson is a monster – noticing a theme yet? Hutchinson looks to start the season at end when the Panthers go to a 4-3 defense and could see time in Nickel packages.
Jalen Harris, DE, Arizona
6'5 – 256
Of course a backup plan was in place if the Panthers weren't able to get their guy in Hutchinson earlier in the second round. Fortunately the Plan B was arguably as good as Plan A. The Panthers doubled dipped in the second round, grabbing EDGE rusher Jalen Harris from Arizona. Another huge defensive lineman who will probably play OLB some in 3-4 packages. Panthers coaches say he reminds them of Brian Burns.
Josh Falo, TE, USC
6'6 – 240
4 picks in and the Panthers haven't picked anyone shorter than 6'5 – definitely fitting the theme of the largest draft in team history, and we are not just talking about the 15 total picks. With Greg Olsen finally calling it a career, the Panthers were in need of a tight end. Falo was their guy in the 3rd round. Falo will compete with for the starting tight end job with Caleb Wilson through the preseason.
Ben Stille, DE, Nebraska
6'5 – 297
Another 6'5 guy, another defensive end. Ben Stille was the 3rd defensive end that the Panthers took in the draft – it was obviously they wanted to address the position for years to come. Stille could play some defensive tackle, but also has the speed to stay at defensive end in most fronts. The Panthers love his versatility.
Luther Harris, OT, Eastern Illinois
6'6 – 370
Speaking of monsters, Luther Harris is without a doubt the largest Panther in team history and he may just a long term answer on the offensive line. Harris is not only above average for a rookie when it comes to run and pass blocking, he's very strong and has high awareness. We may just see Harris starting by the end of his rookie season, as the Panthers prepare to find answers as they have 2 offensive line starters with contracts expiring.
Master Teague, HB, Ohio State
6'0 – 225
The Panthers selected the player with the coolest name in the draft — Master Teague. Coach JT said Teague reminds him of Ezekiel Elliott (who played at Ohio State as well). Teague is a good all-around back who could spell Christian McCaffrey and Najee Harris, as he looks to compete for the 3rd RB spot with Donta Foreman.
Xavier Gaines, TE, Marshall
6'3 – 230
Xavier Gaines was referred to as the "X-Factor" at Marshall. He was a top 15 dual-threat quarterback coming out of high school and played some snaps for the Herd at quarterback occasionally. He made the move to tight end as a freshman and contributed on special teams at Marshall. As a JR he won the Mackey award finishing with over 900 yards and 12 TDs as a tight end. It would not be a surprise to see Gaines line up in the backfield in the preseason – even as quarterback.
Dax Hollifield, MLB, Virginia Tech
6'1 – 239
Luke Kuechly isn't getting any younger… and his contract is about to expire. The Panthers selected Hollifield with the hope that he may end up being an insurance plan if contract extension talks were to fail with Luke. Expect Hollifield to get a lot of reps through the season while learning under Kuechly.
Eyabi Anoma, OLB, Houston
6'5 – 255
Eyabi Anoma may just be the best value pick in the draft, being picked in the 6th round. Anoma will get a lot of playing time as an EDGE rusher as he will spell Brian Burns and Jacob Phillips. He has speed, and a good mix of pass rushing skills to be a starter eventually.
Harold Joiner, H-Back, Auburn
6'4 – 225
Harold Joiner is a combination of 2 things the Panthers love – versatility and size. Joiner played wide receiver and halfback at Auburn and often lined up as H-Back in Gus Malzahn's offense. Joiner will probably move to fullback and contribute as a utility back for the Panthers.
Viane Moala, DT, Utah
6'7 – 315
Moala looks to work under Muhammad Wilkerson at nose tackle in the 3-4 defense. He is a solid run stopper and can rush the passer when needed, but he is mostly a space eater at 6'7 and 315 pounds.
Jake Curhan, RT, California
6'6 – 335
Curhan is a power blocker, rated as one of the best road graders in the draft. If the Panthers can develop his pass blocking, he may eventually be a starter.
Kadarius Toney, WR, Florida
5'11 – 190
The human joystick joins the team as the 3rd Florida Gator in the wide receivers room – joining teammates Trevon Grimes and Tyrie Cleveland. Toney will be competing with Cleveland as the lead return man and final WR on the roster.
Chaton Mobley, RB, Middle Tennessee State
6'1 – 241
Mobley will likely move to fullback as he graded high as a blocker rather than a runner. He will probably get some short yardage looks in the preseason as he tries to make the final 53 man roster.